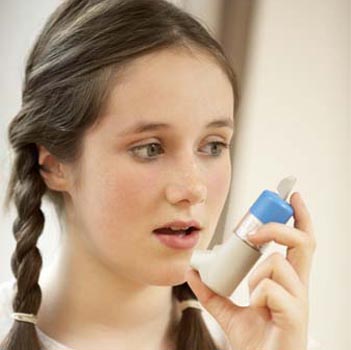 So a lot of my tweets lately have been about whether I'm going to be able to run - aka breathe when I'm running. I'm not one to make up excuses for why my running's been poor. I actually thought that I had just been slacking until I realized that I couldn't breathe. My last doctor said I could have sports induced asthma, which is not uncommon for someone like myself that's amping up their exercise routines. She gave me a sample inhaler to try, and it worked like a charm.
What happened? I lost my health insurance and the inhaler ran out. What do I do? Well... as stubborn as I am, I never want to depend on medicine or any substance to make me better or fix things. I feel like we can work our way through things. In my case, train through it.
That has not been working lately. I can barely run a mile and a half without my entire body shutting down. I'm hoping that the girl in the picture is not me and will be doing some extensive online research to find ways to train through this. Any tips will be very much appreciated. I'll keep everyone updated with my progress as I still would like to train for a half marathon!